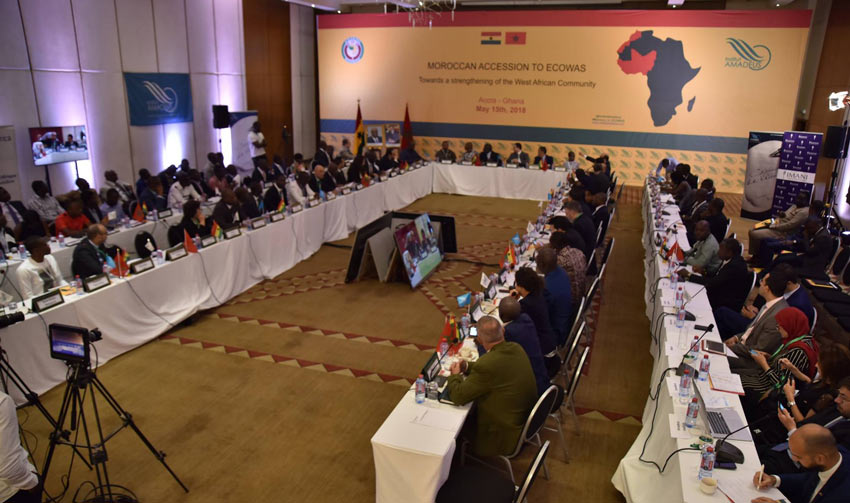 Sahara Wind moderates the Moroccan accession to ECOWAS conference of May 15th 2018 in Accra, Ghana.
Morocco's accession to the Economic Community of West African States (ECOWAS) as a full member has been agreed in principle by the community's Heads of State in June 2017; however, the absence of a debate has been noticed in Morocco as well as in the ECOWAS states. In order to reinforce trust between governments and people, a conference under the theme: "Morocco's accession to ECOWAS: Towards a strengthening of the West African community" was held at the Mövenpick Ambassador Hotel in Accra. Organized by the Amadeus Institute in partnership with the General Confederation of Entrepreneurs of Morocco (CGEM) and the Ghanaian Think Tank IMANI Africa, participants shared their respective sectors interests on how Morocco's accession process can be implemented without disrupting the West African integrationist synergy. Held under "Chatham House Rule" Moroccan, Ghanaian and West African delegations debated and explored ways to reinforce this exemplary regional community with the best "win-win" approach.
The Accra Conference brought together distinguished speakers, including business operators, policymakers, politicians, experts and civil society leaders coming both from Morocco and Ghana, but also from Senegal, Côte d'Ivoire, Liberia and Sierra-Leone.  Throughout the day, four workshops held under "Chatham House Rule" ensured all parties freely expressed their opinions.
More information on this event:
https://imaniafrica.org/2018/07/04/report-moroccos-accession-into-ecowas-why-not-morocco/