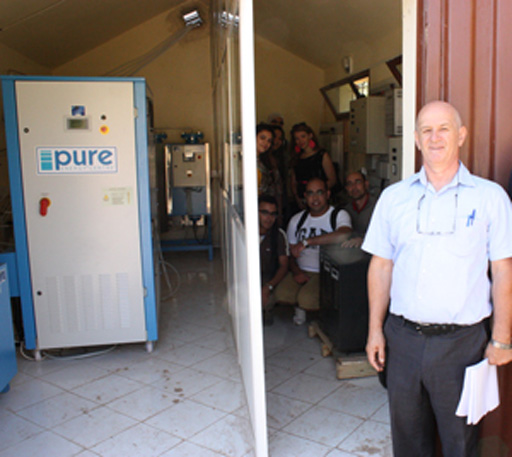 Al Akhawayn University students earned top honors at a recent international symposium on renewable energies.

The students, Asmae Berrada ('14) and Aicha Slassi Sennou ('14), spent August 26 to September 6 at the International Summer University on Energy 2013 (ISUenergy 2013), organized by Helmholtz-Zentrum Berlin and conducted in Falera, Switzerland. They were ranked first in the program among the 53 international Ph.D. and MS students from countries such as Germany, France, Italy, and the Netherlands.
The symposium was a two-week interdisciplinary seminar on renewable energies that involved different academic fields and covered topics as diverse as solar cells and materials, photovoltaic systems and applications, sustainability, and smart grids.
The students had the opportunity to attend lectures by leading professionals and academics in the field of renewable energy from companies such as Siemens Switzerland and schools such as Princeton University and the University of California, Berkeley.

Student participation in conferences such as ISUenergy 2013 coincides directly with the university's strategic plan to expand co-curricular international experiences for students as well as increase communication and interaction at the international level.
Academically, Al Akhawayn is fast becoming a leading figure in renewable and sustainable energies in North Africa. In 2011, the university began admitting students to its newly created Master of Science in Sustainable Energy Management program. More recently, in May 2013, the Mediterranean Institute of Renewable Energies organized "The First Training Symposium on Renewable Energies in the Mediterranean Region " at Al Akhawayn University. The symposium brought together leading figures in the renewable energies field for an exchange of ideas on how best to manage and develop renewable energies.
In addition to its academic developments, Al Akhawayn is also promoting sustainability internally with projects such as taken the initiative of developing the first "green" educational campus in Morocco and the installation of Africa's first wind hydrogen system.