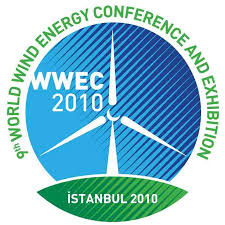 The Sahara Wind project presented as "Large-scale integration of wind power" at the 9th World Wind Energy Conference in Istanbul, Turkey

World Wind Energy Conference & Exhibition WWEC, the leading event in wind energy, taking place in a different continent each year, was held in Istanbul, Turkey from June 15-17th 2010.

WWEC2010, the 9th World Wind Energy Conference and Exhibition, set up a platform where major players of wind energy technologies, industries and policies gathered together to share the latest technologies and information affecting strategic decisions. The special focus was on how to integrate large capacities of wind power into existing grid infrastructure and how to adjust grid capacities. Turkey with 80 GW wind projects waiting for permission is an excellent example for the corresponding challenges and opportunities.
WWEC Conferences and Exhibition brings together all major players in the sector and provided great networking opportunities with industry leaders, investors, developers, public authorities and worldwide media. The exhibition enhanced the visibility of products, brand names and projects and gave direct contact and selling chances to a wide range of potential customers.